Newcastle scientists are part of a multi-million pound investment for digital pathology, radiology and artificial intelligence schemes to improve patient diagnosis.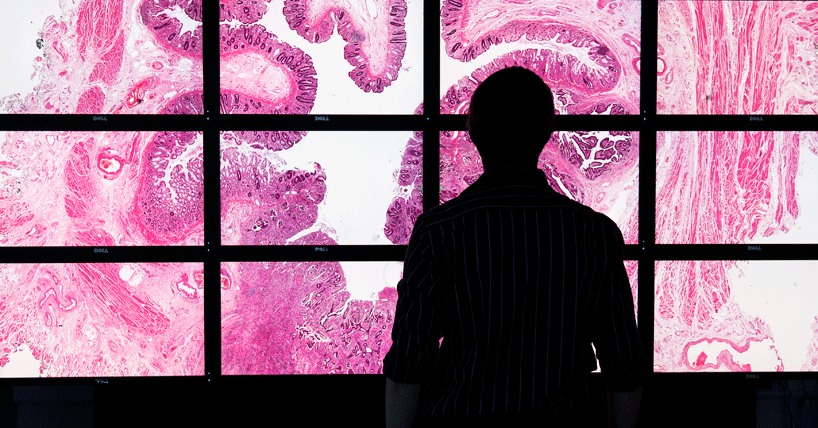 Greg Clark, Secretary of State for Business, Energy and Industrial Strategy, has announced that UK Research and Innovation will invest £10.1 million, as part of the Industrial Strategy Challenge Fund.
The national funding will allow the creation of two projects in the North East to enhance patient treatment, involving Newcastle University and Newcastle upon Tyne Hospitals NHS Foundation Trust.
Northern Pathology Imaging Co-operative
Newcastle University is part of a consortium of seven universities and 10 industry-leading medical technology companies, called the Northern Pathology Imaging Co-operative (NPIC), which is set to become a globally-leading centre for applying artificial intelligence (AI) research to tissue diagnosis.
NPIC will put new digital pathology scanners into a network of northern NHS hospitals to gather digital pathology images for training AI systems. This will generate around 760,000 images per year, about 1.2 Petabytes of data.
The project aims to develop more integrated ways of working across regional clinical pathology services. Part of the project – which will apply Roche Diagnostics Ltd AI algorithms – will recruit patients to focus on the development of new AI-based diagnostic tests for bowel, breast and lung cancer.
Dr Chris Bacon, from the Northern Institute for Cancer Research, Newcastle University, said: "It is tremendously exciting to be part of this cutting-edge research project.
"By combining digital imaging of the microscope slides currently used in diagnostic pathology, with artificial intelligence algorithms able to interpret the images quickly, accurately and in new ways, we aim to transform the way that pathology is delivered for patients, now and in the future.
"As a cancer pathologist, it is especially motivating to be working together with Roche Diagnostics Ltd and colleagues in universities and hospitals across the North of England to combine digital imaging and AI to develop new pathology tests to help oncologists know which drugs to give patients to best treat their individual cancers."
A key part of the project is to consider the ethics of data sharing to ensure NPIC partners abide by the highest professional standards when images are utilised for research purposes.
NPIC will also engage patients and the public in a programme of work about the use of anonymised images for AI research.
The project will also inform the development of a 'national pathology exchange' – software that allows images to be shared between NHS sites nationally so that patients can benefit from second opinions from anywhere in the UK.